Sunday
October 30th, 2022

Weekend Sundays is updated continuously
Blue's Clues and YOU!
LIVE On Stage
@Smart Financial Center
Sunday 10/30/2022 2:00 PM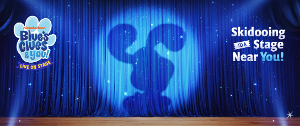 Blue's Clues & You! Live on Stage is an epic new adventure! Josh is conjuring up a magical theater show, but he needs YOUR help! Kids and families will fall in love with theater as they solve Blue's Clues to find out what Josh needs to make a show.
With Broadway-style song and dance, this production pulls out all the stops! See Josh and Blue skidoo to amazing places! They'll make a rainbow with MAGENTA! They'll make a music video with Rainbow Puppy. They'll float in outer space!
Discover all the singing, dancing, laughing & creativity with Blue, her friends, and of course, YOU!
The Blue's Clues & You! Live On Stage Photo Experience is a post-show exclusive, unique opportunity for fans to get a special photo with Josh, Blue, and friends. Guests will have an opportunity to visit with Josh and Blue on a one-of-a-kind set piece, converse with their favorite character, and pose for a special photo! *For the safety of all guests and performers, no touching or hugging will be permitted.* Admission to the performance is not included in the Photo Experience ticket. Children age 12 and under must be accompanied by a Parent/Guardian. Each Child, Parent or Guardian must have a show ticket as well as a Photo Experience ticket to attend.
Blue's Clues & You FULL EPISODE! 💙 w/ Josh, Blue & Magenta! Blue's Clues & You!
Josh Dela Cruz is the live-action host of Nickelodeon's hit preschool TV series Blue's Clues & You!. Now that the show is being brought to theaters around the country in an original new musical adventure, we are thrilled that a dynamic stage performer has been cast to play the character of "Josh" to delight and entertain audiences across all of the tour markets.
The Legendary Pink Dots
with Orbit Service
@Warehouse Live
The Studio
Sunday 10/30/2022 8:30 PM
The experimental rock band The Legendary Pink Dots (LPD) make their way to Warehouse Live this weekend in The Studio venue.
The band was originally called "One Day", but subsequently changed the name to The Legendary Pink Dots, apparently inspired by pink dots on certain keys of the band's main recording studio piano. Humm
The Legendary Pink Dots Stockholm
(From All Music.com-Steve Huey) The Legendary Pink Dots are an influential, staggeringly prolific group led by enigmatic frontman Edward Ka-Spel. Emerging from the early-'80s post-punk underground and sometimes categorized as industrial due to associations with bands like Skinny Puppy, the group's music is nearly impossible to pin down, drawing from Krautrock, ambient, folk, synth pop, and numerous other styles. The Dots' music is by turns melodic pop and exotic psychedelia, with classical influences, sampling, and relentlessly dark, violent, apocalyptic lyrics. Ka-Spel's rhotacistic vocals are instantly recognizable, and somewhat resemble a cross between Syd Barrett and Coil's John Balance. Read more @All Music.com (Click Here)
Benny The Butcher
@Warehouse Live
The Ballroom
Sunday 10/30/2022 10:00 PM
Doors Open 9:00 PM
(From All Music.com-Andy Kellman) Benny the Butcher is part of Buffalo's Griselda crew and behind Black Soprano Family, the two primary outlets for his tense narratives about street life. Like frequent collaborators Westside Gunn and Conway, he's inspired most by hardcore mid-'90s hip-hop from his home state, including Wu-Tang Clan and Mobb Deep. A late bloomer by his genre's standard, he hit his stride in his thirties with releases such as Tana Talk 3 (2018), The Plugs I Met (2019), and the critically acclaimed Burden of Proof (2020), followed by The Plugs I Met 2 (2021). A collaboration with J. Cole preceded 2022's Tana Talk 4.
Benny The Butcher - Thowy's Revenge
(Prod. by Alchemist)
Jeremie Pennick knew by the age of ten that he wanted to be involved with music. He issued material in the late 2000s as B.E.N.N.Y., including the full-length projects The Mayor's Back and Chains Bond. By then, he had initiated a long-term alliance with Westside Gunn and Conway as the Forerunners, a group that also included his brother, Machine Gun Black. Read more @All Music.com (Click Here)
Houston's Online Weekend Planning Entertainment Guide
Looking for that Sunday weekend event and can't find it try our custom "Google Search"