Sunday
November 21st, 2021

Weekend Sundays is updated continuously
Today
@White Oak Music Hall
Deceased
with Overdose and Thundertank
White Oak Music Hall
Upstairs
Houston, TX
Show: 6:00PM
$uicideboy$ present Greyday Tour
White Oak Music Hall
Lawn
Show: 4:30PM
KCAMP
White Oak Music Hall
Downstairs
Show: 7:00PM
White Oak Music Hall
2915 N Main Street
Houston, TX 77009
Directions (Map)
Phone: (713) 237-0370
Pecan
Harvest Festival
@Downtown Richmond

Sunday 11/21/2021 11:00 AM -6:00 PM
Move over pumpkin-spiced products! Pecan flavored coffee and beers, pies and pastries, and a huge range of other pecan themed products are about to make it to the shelves. It's pecan season in Fort Bend County and across the State. We've got big news to share with you concerning pecans in the county.

The event highlights the rich history of pecans in Fort Bend County while also showcasing the unique features of downtown. The festival's beloved Kidz Zone will be nestled in Decker Park, while live music entertains all day from Wessendorff Park's gazebo, backing up to the trails surrounding the historic Morton Cemetery at edge of Wessendorff Park.
Expect an old-fashioned hayride, Little Miss Pecan Contest at the Fort Bend Museum's Moore Home, as well as an expanded car and bike show. Festival features include artisan vendors, a farmers market, a beer and wine garden, a pecan baking contest, and a food truck park.
Texas A&M AgriLife Extension is hosting the Pecan Education portion of the festival, including interactive agricultural exhibits and the Fort Bend County Pecan Show, where attendees will find 40-plus varieties of award-winning pecans.
Pecan Harvest Festival of Richmond
500 Preston Street
Richmond, TX 777469
Directions (Map)
COIN
"Rainbow Dreamland Tour"
@HOB Houston

Sunday 11/21/2021 8:00 PM
Doors Open 7:00 PM
Since the arrival of their 2016 breakthrough single "Talk Too Much," COIN have continually turned out sublimely catchy alt-pop, equally built on effervescent hooks and an understated complexity. This weekend the Tennessee band is at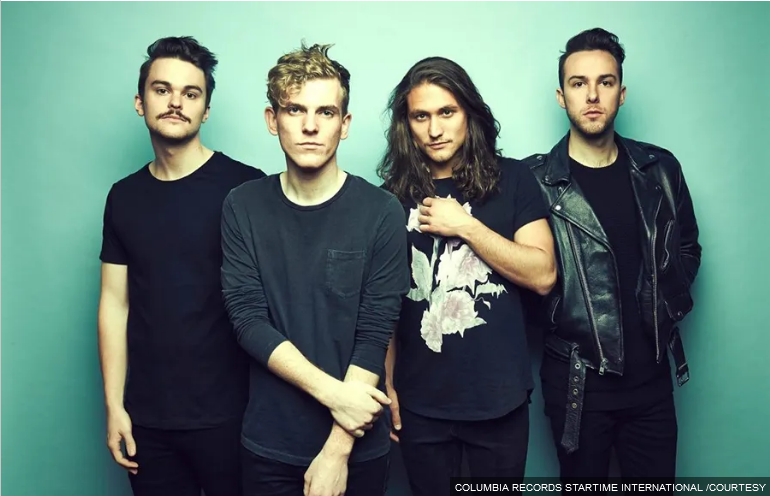 LiveNation's HOB in GreeStreet at House of Blues.

With that dynamic earning them a passionate following, the Nashville-based trio have spent much of the past few years bringing their sing-along-heavy live set to frenzied crowds all across the globe. Now at work on their third full-length effort, COIN are embracing their pop instincts more fully than ever, dreaming up their most sonically adventurous yet emotionally direct batch of songs to date.

The follow-up to 2017's How Will You Know if You Never Try, COIN's forthcoming album finds the band letting go of a certain self-imposed limitation on their sound. "The whole point behind this album was to not overthink anything as we were putting the songs together," says Lawrence. "There have been moments in the past where a sample or a drum sound or a keyboard riff might not make the song because we didn't feel like it was inherently COIN. This time, if something felt good, then we just went for it. We never felt the need to get too precious about anything."
Atwood Magazine.com writes, "COIN is everything one would have expected it to be, and a little bit more. Bright and catchy Walk The Moon-style pop songs are performed with the fervor of The Strokes in their prime: Overdriven guitars rattle and hum with hi-fi perfection, often sharing melodic responsibilities with shimmering synth lines. Frontman Chase Lawrence's edgy, golden vocals are reminiscent of Phoenix's Thomas Mars and Neon Trees' Tyler Glenn, adding to the sonic mix that extra sparkle that makes every song on the record truly pop."

HOB Houston
in GreenStreet
1204 Caroline St.
Houston, TX
(888) 402-5837
Directions (Map)
Houston's Weekend Planning Guide
(Weekendhouston.net) is a Targeted Premium Event Listings Journal/Calendar
Jazzy Sundays
in the Park
@Buffalo Bayou Park

Sunday 11/14/2021 4:00 PM

The Peterson Brothers
Opener: Keesha Pratt
The Peterson Brothers combine infectious energy and modern grooves with jazz, funk, blues & soul to a create their own unique sound. This weekend they're in Buffalo Bayou Park in their Jazzy Sunday series.
For a decade, the Texas natives have been building a fan base across America, playing both classic funk and soul, and their original music that includes jam-band style improvisation by Glenn Jr. on vocals and guitar, and Alex on bass, vocals and violin. The brothers' love for classic Funk, Soul, and Blues music was born when their mother and grandmother brought home a crate of assorted albums and turntable from a garage sale.

The Peterson Brothers learned to play by listening to artists like The Isley Brothers, Earth, Wind & Fire, The Brothers Johnson, and B.B King; from then, they created their own stage show. Some of their first consistent gigs included regular performances at Antone's, The Saxon Pub and other renowned venues in Austin.
The duo have since traveled the U.S. performing in front of crowds at Chicago Blues Festival, Minnesota State Fair, Texas State Fair, Riverbend Festival, Eric Clapton's Crossroads Guitar Festival and many others. They've also opened for legendary artists including Gary Clark Jr., Kenny Wayne Shepherd, Jesse Johnson (The Time), Willie Nelson, B.B. King, New Power Generation (Prince's longtime band), Buddy Guy and more. "It's important to point out the ages of these young cats, as they've become one of the most popular festival fixtures in the US, in just 10 years, writes American Blues Scene. Minneapolis Star Tribune named them the band likely to earn the biggest fest buzz after performing at the Roots, Rock and Deep Blues Festival.
Buffalo Bayou Park
1800 Allen Pkwy
and Memorial Drive
Houston, TX 77019
(713) 752-0314
Directions (Map)
Houston's Online Weekend Planning Entertainment Guide
Looking for that Sunday weekend event and can't find it try our custom "Google Search"