Siggno
"ReconeXion Tour XXI"
@Houston Arena Theatre

Saturday 12/4/2021 9:00 PM
SIGGNO has been around for almost 15 years, a group whose freshness continues to this day.

This weekend Siggno with Sólido and Chris Pérez is at the Arena Theatre with their "ReconeXion Tour XXI".
The group is made up of the original union of musicians from different regions of Texas and
Florida, SIGGNO is characterized by being a musical group that exudes originality both in its musical proposal and in its image.
His first production, titled "Al Principio," quickly caught on with audiences throughout Texas, and opened the doors to the music industry for them. In 2002, SIGGNO recorded their second album, "Por amor", and it became a watershed in the career of this young band, as it earned them the highest recognition that any musician could wish for in the American Union: his nomination for the prestigious Grammy Award.
In 2004 Freddie Records became their record company and joining the artistic cast of this label opens the doors of internationalization for them; thousands of followers of northern and texan music welcomed SIGGNO and its original musical proposal. Renowned groups and artists invite SIGGNO to share the stage on successful tours, allowing them to bring their music to massive audiences.
"Chapter 5" is the album released by SIGGNO in 2007 and which was honored by the Recording Academy with its second Grammy nomination in the category of 'Best Northern Album'; The following year, in 2008, the young group proudly received the coveted prize awarded by the Recording Academy: the Grammy for Best Northern Album of 2008.
The creativity and passion for the music of each of the members of SIGGNO, make it a group that came to stay in the public's preference, proof of this is its active schedule of presentations throughout the United States, with the invaluable support of radio and television programs that cover and follow your events.
SIGGNO gives the best of its music in each presentation, leaving the soul of each of its musicians on each stage they step on; the thousands of fans who follow them through social networks and Internet pages confirm the love that they have earned song by song, concert by concert, in the hearts of their audience.
Also on the performance bill that evening is Chris Pérez. Perez was married to the the late Selena.
Leila Cobo of Billboard magazine reviewed Perez's guitar style as contemporary cumbia music, reminiscent of music produced by A.B., R&B, rap and funk music. Chuck Taylor, a Billboard editor,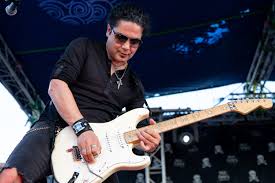 called The Chris Pérez Project debut album a "lot of classic rock elements". David Cazares of the Sun Sentinel called Pérez' debut album "average rock" music. The San Antonio Express-News said that "Resurrection" was a fusion of "pop rock grooves and Tejano soul". Pérez is known for tapping into Latin genres, such as cumbia and Latin rock.
In the 1997 biopic-film, Selena, Pérez was portrayed by Jon Seda while actor Jesse Posey portrayed him in Selena: The Series.
Solido is an award-winning Norteno group from the Texas Valley, winners of a Grammy Award for Best Tejano Album and a Latin Grammy for Best Tejano Album.


Grupo Solido has a new album, "Incomparable", it's the Grammy-winning group's first album in five years says Tejano Nation.net. Rolando Benavides told Tejano Nation back in June, "It's just a mixture of a whole bunch of stuff — we experimented a little bit but we didn't shy away from the classic Solido sound".
"It's crazy that it's been five years," said Benavides. "It's just been really busy on the road. Our last album did really good for us and during that time whenever we had down time we would record and then COVID happened so we actually took that time to finish off the album at our studio."
"Basically we were looking for something happy with so many sad things going on in the world right now," Benavides says of their latest single. "'De Besitos' is basically you're talking to your girlfriend, wife, whatever and just telling them how much you love her and you want to kiss her and it kind of goes a little bit into detail."
Houston Arena Theatre
Arena Towers
7326 Southwest Fwy
Houston, TX 77074
Directions (Map
(713) 772-5900
Houston's Weekend Planning Guide
(Weekendhouston.net) is a Targeted Premium Event Listings Journal/Calendar
100% Money-Back Ticket Guarantee
Tickets for Weekend Houston's Planning guide is provided by Ticket Liquidator a resale marketplace, not a box office or venue. Prices may be above or below face value. Your seats are together unless otherwise noted.
If problems with our affiliate call us (832) 949-9691
Houston's Online Weekend Entertainment Guide
[Disclaimer]
Houston's Weekend Planning Guide participates in various affiliate marketing programs, which means, we receive paid commissions on purchases made through our links to retailer sites.
Our editorial content is not influenced by any commissions we receive.
Looking for that Friday weekend event and can't find it
try our custom "Google Search"