Weekend Saturdays is updated continuously

Bill Engvall
"Here's Your Sign
It's Finally Time"
Farewell Tour
@The Grand Opera House
In Galveston
Saturday 7/9/2022 4:00 PM & 8:00 PM

Galveston native comedian Bill Engvall returns to the island with two shows this weekend at The Grand Opera House.
According to his web story Engvall's career breakthrough happened in 1992 when he was named Best Male Standup at the American Comedy Awards. His first role as a series regular came soon after when he was cast in the ABC series Delta,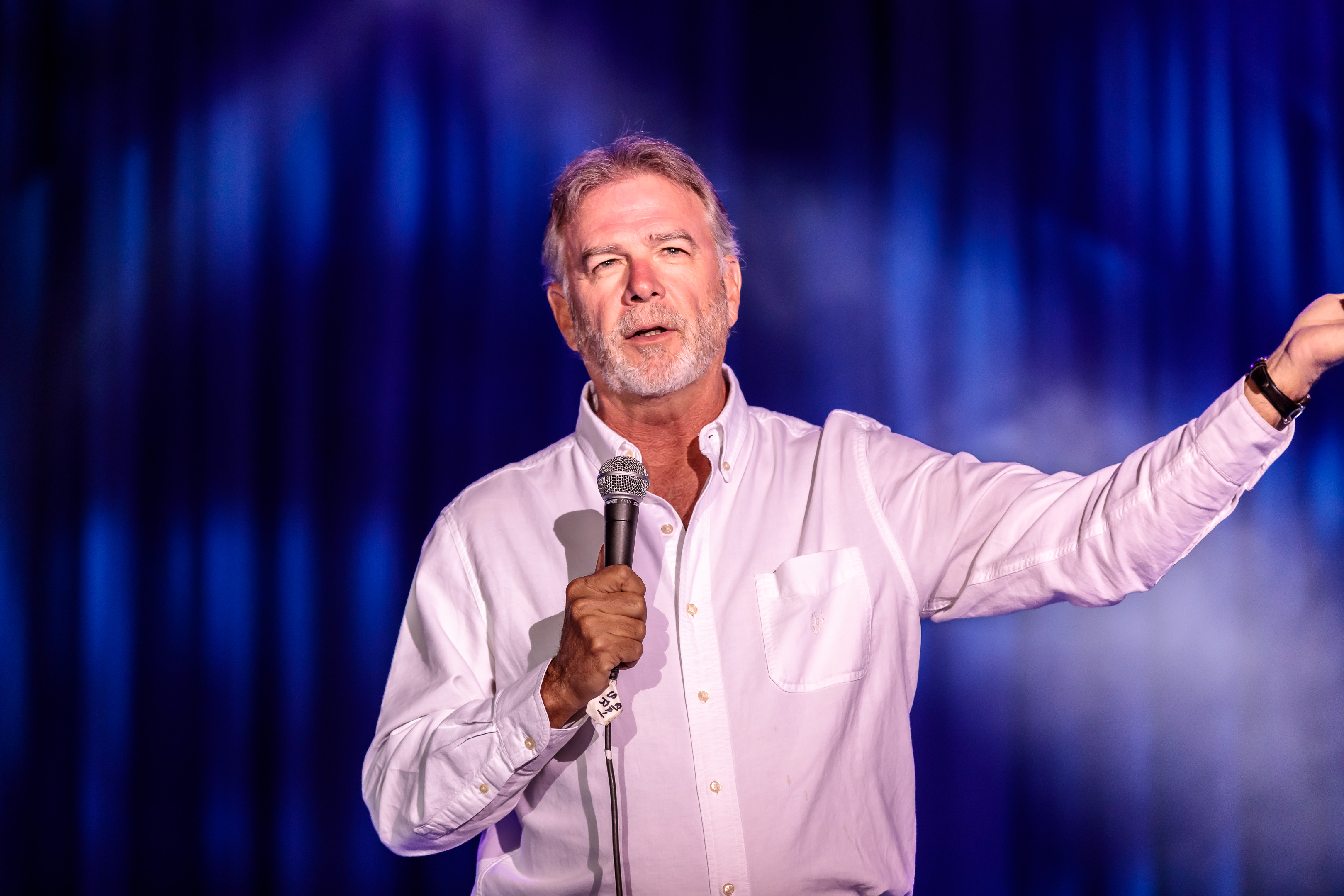 starring Delta Burke. The show only lasted one season and Engvall returned to making the rounds of comedy clubs and the occasional television appearance until 1996 when he was cast with fellow comic and best friend Jeff Foxworthy in the NBC version of The Jeff Foxworthy Show. Signed by Warner Bros. Records in 1996, Engvall released the first of a series of comedy albums, Here's Your Sign, based on his signature stage bit. The album was certified Platinum and peaked at #5 on the Billboard Country album chart, thanks in part to the single and music video of the same title on which he collaborated with country singer Travis Tritt. Eight more comedy albums followed, including Dorkfish in 1998, and 2009's Aged and Confused.
Bill Tries Marijuana | Bill Engvall
It was in 2013, Engvall was a contestant on the 17th season of Dancing with the Stars paired with professional dancer Emma Slater. In the first week, he danced the foxtrot and scored 18-points with the judges. The second week was Latin week and he saw some higher scores from the judges receiving a 21 for his Jive. And the third week of competition he earned a score of 24 with a Paso Doble to the Lone Ranger theme song. Throughout the rest of the show, the judges usually placed Engvall and Slater at the bottom of the leaderboard, but an enormous fan base kept them in the competition, resulting in higher-scoring contestants, Christina Milian, Snooki, Brant Daugherty, Elizabeth Berkley, and Leah Remini being voted out instead.
The Grand Opera House
in Galveston
2020 Postoffice Street
Galveston, TX 77550
Directions (Map)
Phone: (409) 765-1894
[Disclaimer]
Houston's Weekend Planning Guide participates in various affiliate marketing programs, which means, we receive paid commissions on purchases made through our links to retailer sites.Our editorial content is not influenced by any commissions we receive.
97.9 the Box
For The H
Presents
Ludacris
with special guests Jacquees
and Ken the Men
@713 Music Hall
Saturday 7/9/2022 7:00 PM
(From All Music.com - Jason Birchmeier) When rap's Dirty South movement broke nationwide in the late '90s and early 2000s, Ludacris rode it to immediate widespread popularity, becoming arguably the most commercially successful Southern rapper of the time. The entirety of the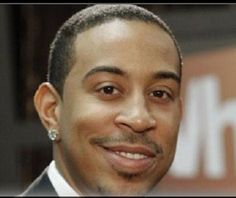 aughts found the rapper scoring hit after mainstream hit and selling platinum numbers of records like 2001's Word of Mouf and 2003's Chicken -N- Beer. He quickly became a multifaceted superstar, making multiple film and television appearances while staying active in music with consistent guest features on other artists' tracks and albums of his own like 2015's Ludaversal.
Ludacris - What's Your Fantasy
Born Christopher Bridges on September 11, 1977, in Champaign, Illinois, Ludacris moved to Atlanta during his high school years and attended Banneker High School there. He then studied at Georgia State University. His entry into the rap industry came via radio; he worked as a disc jockey at Atlanta-based urban station Hot 97.5 (which later became Hot 107.9), where he was known as DJ Chris Lova Lova, and this was how he became acquainted with Timbaland. The producer featured Ludacris (then billed as Ludichris) on the song "Fat Rabbit" from his album Tim's Bio (1998), and with such a high-profile feature to his credit, the groundwork was laid for the rapper. Ludacris proceeded to record an independent album, Incognegro (1999), which he in turn released regionally himself, on the label Disturbing tha Peace. Ludacris primarily worked with producer Shondrae for the album, though also with Organized Noize, the acclaimed production team behind the early albums of OutKast and Goodie Mob. Incognegro sold well enough to break into the Billboard 200, and Ludacris was approached by Scarface of the Geto Boys, who as a representative of Def Jam was interested in negotiating a recording contract. (Read more @All Music.com Click Here)
713 Music Hall
In POST Houston
401 Franklin Street
Houston, TX 77201
Directions (Map)
(832) 204-6920
100% Money-Back Ticket Guarantee
Tickets for Weekend Houston's Planning guide is provided by Ticket Liquidator a resale marketplace, not a box office or venue. Prices may be above or below face value. Your seats are together unless otherwise noted. If problems with our affiliate call us (832) 304-0701
Deep Ella
with Heart of the City
and Two Thirds
@White Oak Music Hall
Upstairs
Saturday 7/9/2022
Doors Open 7:00 PM
(From last.fm.) From the emotional well-spring of singer-songwriter Jeff Crowder, came the integral foundation for Houston-based artistic rock band, Deep Ella. With meaningful lyrics and organic melodies as the backbone of the project, the band released the record "Last Years New Thing," in 2002. LYNT was characterized by a mix of diverse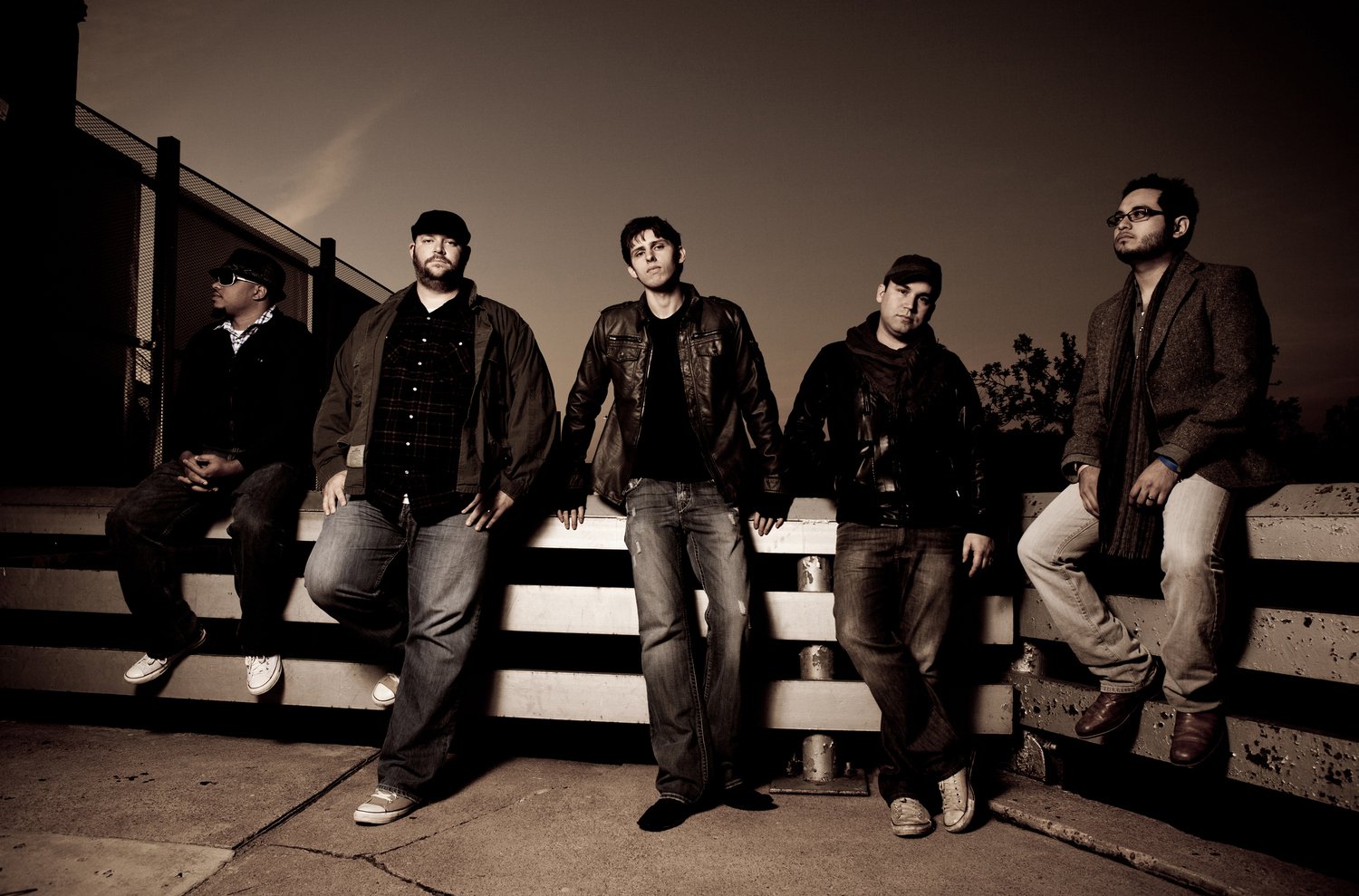 songs with a range of styles that embody the wavering passion of a progressive youth. Drawing together the experience of local success, consistent gigs, and a loyal fan base, the band began tinkering in the studio, using a few EPs to mold their sound. Deep Ella spent the better part of 2006 holed up in Helberg House, the band's home studio, working on their sophomore album "Empty Seas and Memories." ( . . .more at Last FM Click Here)
current members:
Jeff Crowder - vocals/guitar
Ryan Korn - lead guitar/vocals
Jason Light - bass guitar
Eric Rodriguez - violin
Fonz Lovelace - drums
Gimme Gimme Disco
White Oak Music Hall
Downstairs
Calling all Dancing Queens! Here we go again! If you can't get enough ABBA then do we have a dance party for you. We are a DJ-based dance party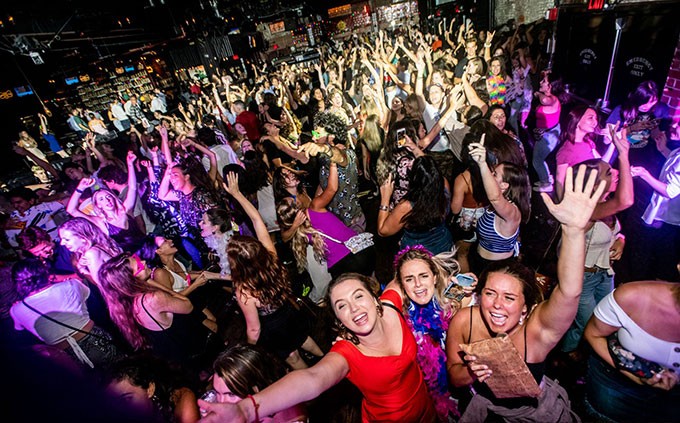 playing all your favorite ABBA hits, plus plenty of other disco hits from the 70s & 80s like The Bee Gees, Donna Summer, & Cher (DISCO ATTIRE ENCOURAGED). So honey honey, take a chance and you'll be dancing all night long. Grab tickets, bring your friends, and have the best night of your life!
Ultimate Rap League
NOME
@Bayou Music Center
Saturday 7/9/2022 3:00 PM
This weekend in downtown Houston its Ultimate Rap League: NOME.
The league originally grew out of the popular series of street DVDs known as S.M.A.C.K. DVD (Street Music, Arts, Culture and Knowledge) that ran between 2002 and 2008. The rap DVDs often feature in-depth interviews and details about up-and-coming rappers' lives. Many DVDs feature a rap battle which was often filmed right on the street, a cappella and without judges. These battles heavily influenced future rap battle leagues and competitions such as MTV's Monday Night Fight Klub,GrindTimeNow.net, Sho-time Battle Rap League, and King of the Dot, setting a new standard for modern day battle rap.
URL NOME XII ANNOUNCEMENT #1
Today, the URL averages up to millions of views on many of their rap battles. They strongly protect their history in the battle rap culture through their slogan, "You Can't Copy Respect", advising battle fans to "follow the innovators, not the imitators". The league has helped provide a platform for many aspiring artists. Rappers such as Charlie Clips, Conceited, Hitman Holla, Tsu Surf, Hollow da Don, Aye Verb, Goodz, Calicoe and Big T were all part of the first wave of battlers for the Ultimate Rap League. Many key figures including Smack himself have been featured on BET and XXL Magazine due to their parts in URL's success. Their battles are also commonly debated by battle rap bloggers and promoters, and featured on WorldStarHipHop.com. In May 2019, The URL launched the URLTV.TV App. The subscription based app allows subscribers to, view unreleased and pay-per-view battles along with other original programming.
Bayou Music Center
in Bayou Place
520 Texas Ave
Houston, TX 77002
Directions (Map)
Phone: (713) 230-1600
Summer Symphony Nights
@Miller Outdoor Theatre
Saturday 7/9/2022 8:30 PM
Enjoy music under the stars with this free Houston Symphony performance at Miller Outdoor Theatre. Conductor Christian Reif leads Errollyn Wallen's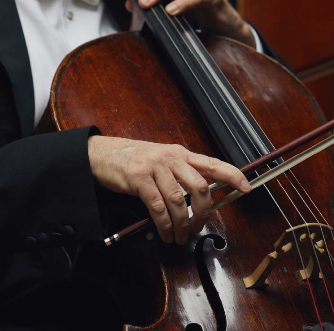 stirring Mighty River and Copland's high-spirited Rodeo, which ends with the famous "Hoe Down." And, experience Dvořák's brooding and dramatic Symphony No. 7, a remarkable masterpiece often deemed his greatest symphony.
Miller Outdoor Theatre
Hermann Park
6000 Hermann Park Dr
Houston, TX 77030
Directions click here
(832) 487-7102
Pour Minds
"For Rich or for Pour Tour"
@HOB Houston
In GreenStreet
Foundation Room
Saturday 7/9/2022
Doors Open 8:00 PM
This weekend it is two Bayou City natives that moved to the Peach state creating a podcast series following that has given them opportunity and success.
Pour Minds - Episode 190 - We in Phuket
(From Apple.com podcast) Pour Minds is a podcast created by Lex P and Drea Nicole. Two young women navigating through life, love, and relationships in the city of Atlanta. We love to sit around with a good glass of wine and discuss our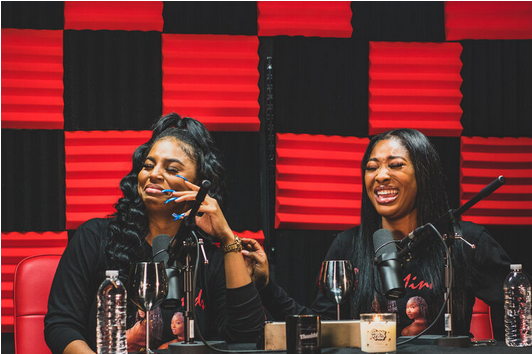 personal opinions on dating, sex, music, current events, etc. On this account we will be offering our members plenty of monthly bonus content and a more in depth look at our personal lives and experiences. We can't wait to give y'all even more raw, uncut, and uncensored content! I hope you're as excited and we are, stay tuned because sh*t is about to get crazy.
Unspeakable Live
@Toyota Center
Saturday 7/16/2022 6:00 PM
A week from Saturday its multi-millionaire Nathan Johnson Graham's, "Unspeakable" at Toyota Center with his "Unspeakable Live" event. If you can't make it to Toyota Center you can buy a streaming ticket.
Houston's Weekend Planning Guide says this is one Summer 2022 event that is worth a ticket. Graham is a web entertainer using his creativity,

which is fantastic and earning a living from the worldwide web. Bravo!
The way the Youtuber has described this event as "Make memories with Nathan, James, and Gabe as they bring their YouTube channels to life with games, guest appearances, and chances to win UNSPEAKABLY cool prizes! plus, if you can't make it in person, you can join the fun virtually and participate online via global livestream."
Now that is a weekend for everyone who has been with Nathan since he started his web ride long time ago.
Trapped on Deserted Island

In his words,(From unspeakable.com) "When I was only 9 years old I built a car from a hovercraft…Pretty impressive? Remote controlled! When I was only 8 years old I built a Lego city with 23,453 Legos...Is that impressive? No?
Well, how about when I was 2 years old I built the Eiffel Tower! With magnets, of course...
Since I was young, I've loved creating things and venturing into things I've never done. I also made videos about things I enjoyed. One day I decided that I was going to become an astronaut. Then, after a year of brainstorming, I got realistic and decided I wanted to be a YouTuber."
"2011 - I started by making Minecraft videos, but unique ones that would draw a new audience and players to the game. After nearly two years of uploading unique, creative, and funny videos to my YouTube channel almost every day, I hit 100,000 subscribers. I felt like I accomplished the world, and I was on top of everyone! However, my journey hadn't even started yet. I had to teach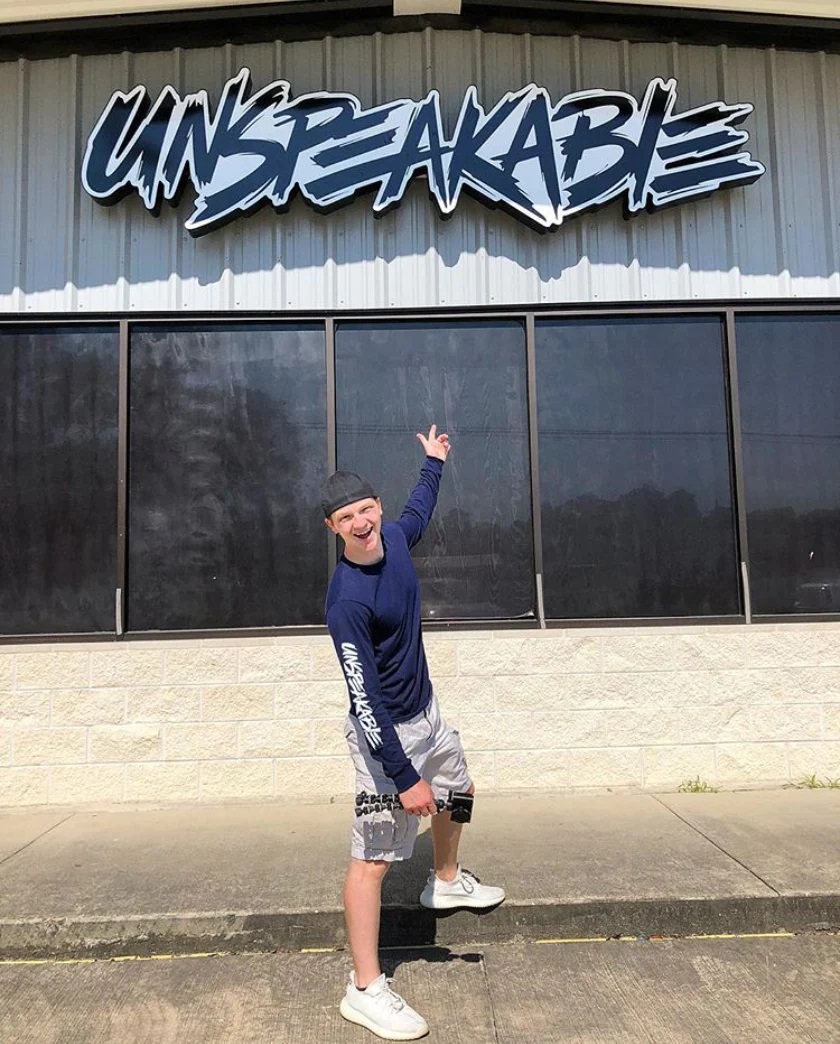 myself how to adapt, edit content in different ways, entertain an audience, and grow a brand up to the millions! I never gave up because I couldn't go a day without thinking about what video I was going to create next!"
"You have to work really, really, really hard if you want to be truly great at something. For the last 3 years I barely took a day off, pushing myself to working 115 hours a week. I worked every waking hour for months. But I didn't dread a single minute of it because my passion was dripping out of me. Every ounce of muscle and brain power wanted to create a successful YouTube channel that people from every country in the world would tune into. Take every day as a learning opportunity to improve. Take every failure as a learning opportunity to be better next time. You may move 5 steps forward today, but 3 steps backward tomorrow. Growth never comes from your comfort zones."
"SHIRTS. EST 2016 4 years ago I decided it was time to create a product I can sell. I had 730,000 subscribers...surely, at least one person would buy something! Right? I contacted a local shirt shop and visited a hardware store for shelves. Two weeks later I had 5 shelves and 600 products in my garage."
"WHY - I created a clothing brand to connect with my audience better. To give them a piece of me they can have in their own home. When you purchase a product from us, you take unspeakable home with you. As I am extremely passionate about creating videos, I am just as passionate about creating a great product for you to purchase. I don't just make these products, I use them daily! Our shirts, water bottles, hats, hoodies, and accessories I wear and use every day."
The Art Museum of Texas
@Sugraland Town Square
Established in 2020, Art Museum TX is a not-for-profit institution in Fort Bend County,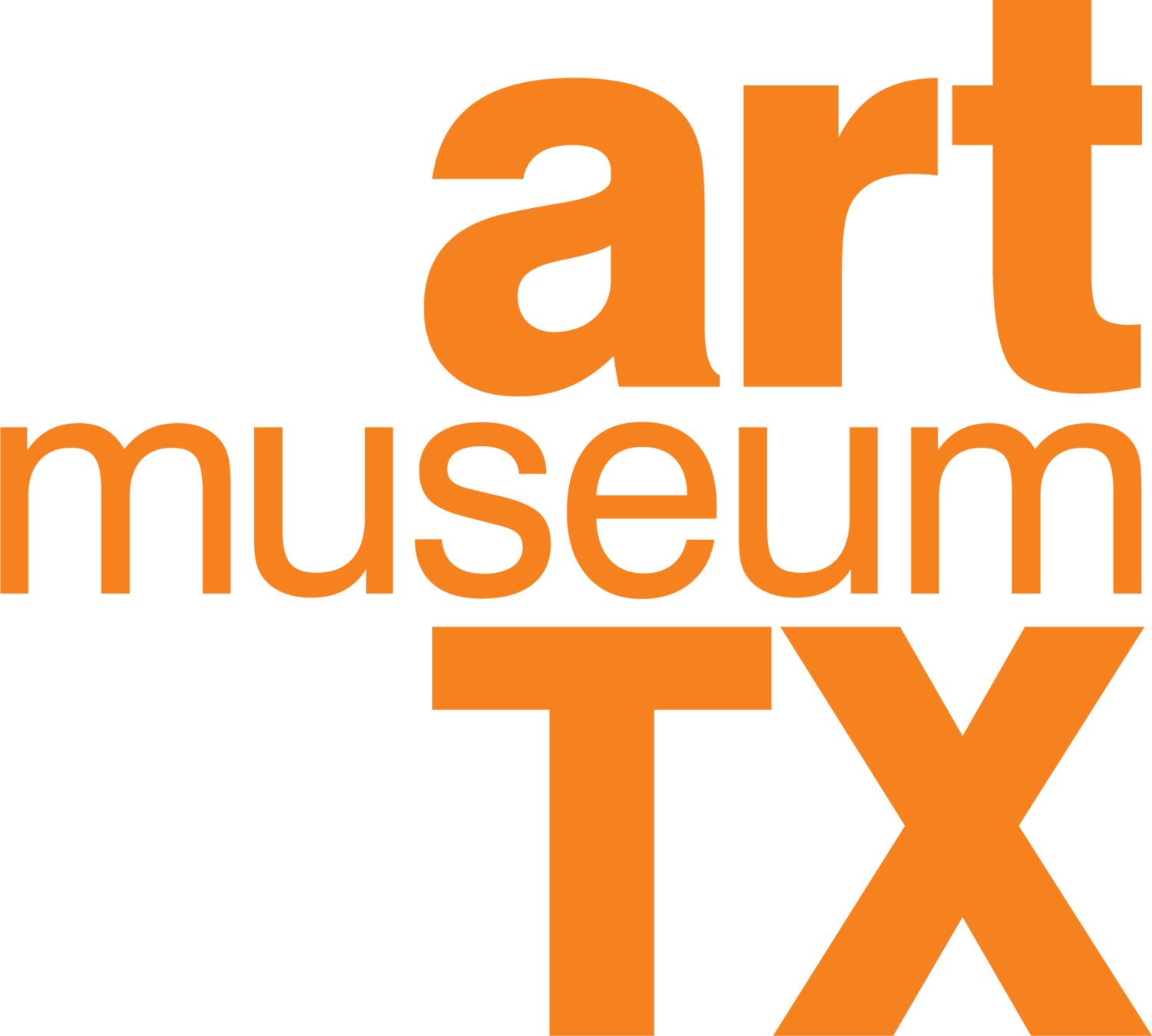 Texas, dedicated to presenting the region's contemporary art to the public. Art Museum TX provides an interchange for visual arts of the present and recent past, presents new directions in art, strives to engage the public, and encourages a greater understanding of contemporary art through education programs.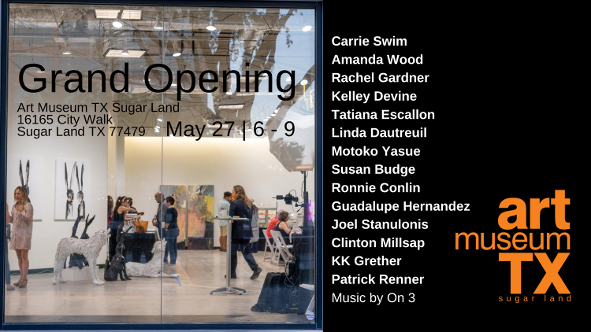 Art Museum TX is a museum dedicated to reaching our Fort Bend area population from one end of the region to the other, reaching throughout the surrounding areas and growing a wider audience. Art Museum TX is introducing art to so many. We bring art to YOU by opening our art space where YOU already frequent! We are in THE NEIGHBORHOOD!
Art Museum TX
16165 CITY WALK
SUGAR LAND TX 77479
Directions
Admission Free
Suggested Donation $5.00
Houston's Online Weekend Entertainment Guide
Looking for that Saturday weekend event and can't find it
try our custom "Google Search"