Houston's Weekend Planning Guide
(Weekendhouston.net) is a Targeted Premium Event Listings Journal/Calendar
John Moreland
with special guest
Will Johnson
@The Heights Theatre
Friday 11/19/2021 8:00 PM
Doors Open 7:00 PM
Lobby Opens 6:00 PM
Over the last half a dozen years or so, John Moreland's honesty has stunned us––and stung. As he put hurts we didn't even realize we had or shared into his songs, we sang along.

This weekend Moreland is at The Heights Theatre in Northwest Houston with Will Johnson also on the performance bill.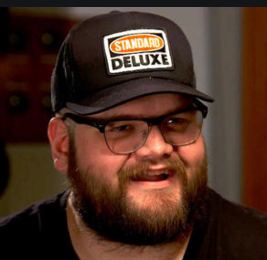 But there has always been far more to Moreland than sad songs. Today, his earthbound poetry remains potent, but in addition to his world-weary candor, Moreland's music smolders with gentle wisdom, flashes of wit and joy, and compassion. And once again, as we listen, we feel better.
"I can't dress myself up and be some folk singer character that I'm not really," Moreland says. "I figured, I can't dress up these songs and try to sell them that way. All I can do is be me."
Last February, his latest album LP5 proves John Moreland has gotten really good at being John Moreland––thank God. A masterful display of songwriting by one of today's best young practitioners of the art form, LP5 is Moreland's finest record to date. The album's experimentations with instrumentation and sounds capture an artist
whose confidence has grown, all without abandoning the hardy roots rock bed and the lyrics-first approach Moreland's work demands. "I feel like just this year, in the past few months, I've reached a point where I feel like I know what I'm doing here now," he says. "And I feel comfortable with it."
There was a time when Moreland thought LP5 may not happen. Wary of expectations and his cemented status as a writer's writer and critical darling, the Tulsa, Oklahoma-based Moreland found writing difficult at best––and completely undesirable at worst. "I'm hesitant to talk about it because I know people don't want to hear some dude complaining that his dream of being a successful musician came true, but there are things about it that you don't expect that can mess you up," Moreland says. "One of the results of that was I really didn't want to write songs for a couple of years." He pauses and sighs. "One of the ways I got back into liking music again was to let go of the idea that every time I'd go mess around with an instrument, I'd have to be writing a really good song. I just gave myself the freedom to go into my little music room every day and mess around with different instruments and different sounds. It doesn't have to be anything. It doesn't have to result in anything."
Moreland points to that liberating rediscovery as a major influence on the sonic choices that shape LP5. There is no grand or alarming stylistic departure here––just different textures and background layers that add muscly new dimensions to Moreland's heretofore instrumentally sparse recordings. The record also marks Moreland's first time working with a producer. He chose Matt Pence. "I wouldn't say that he pushed me into trying anything that I didn't already want to do, but I think I came in with a lot of ideas that I found interesting but didn't know how to execute. Matt was great at expanding on those things," Moreland says.
For Moreland, falling back in love with music also coincided with an even more personal change. "This past year, I've been getting into mindfulness and being kinder to myself," he says. "I was really on that wave when I started writing these songs. I guess it shows."

It does show––beautifully. Album opener "Harder Dreams" is a clear-eyed confession, not of wrongdoing, but of disbelief in a life defined by unworthiness and threatened by damnation. Echoing percussive punches make the music sound l
ike a transmitted message, fighting its way through the atmosphere. Punctuated by keys and fuzzy guitar, "Terrestrial" picks up on the same idea, and delivers the kind of killer line we've come to expect from Moreland: "As a child I repented my nature, till as a man, I repented my past."
"It goes back to being kind to yourself," Moreland says. "Part of that process for me was realizing all the ways I have been taught or learned to be cruel to myself or to hate myself through my life. A big source of that was church for me. They teach you that you're bad and you have to repent for what you are. Now, I feel like I've grown up, and I repent for that––because that was a sin against myself."
Slow-burning blues song "A Thought is Just a Passing Train" quells worry with the truth: "I had a thought about darkness. / A thought's just a passing train," Moreland sings. His gravelly voice, capable of both hushed devastation and rock-anthem growls, sounds more powerful than ever. "Learning How to Tell Myself the Truth" is both wry and gorgeous––a rare combination Moreland is uniquely suited to perfect. "I Always Let You Burn Me to the Ground" unfurls into a plea and admission, while harmonica-rich "Let Me Be Understood" looks backward with new eyes and embraces enlightenment. Two instrumentals offer meditative pauses: "Two Stars" plays like a lilting acoustic guitar lullaby, while "For Ichiro" breaks with expectations to revel in mesmerizing keys and trills.
Moreland wrote "When My Fever Breaks" for his wife. He started the song when the two were dating, then finished it three years later. The track is a tribute to the trust and comfort that come with being loved well. "It took me a long time to write it," he says. "It was hard to figure out, how do I write the kind of love song that I am comfortable with?"

Lincoln Theatre - American Aquarium "Wolves" cd release Night Two Raleigh, NC
Achingly beautiful "In the Times Between" was inspired by Moreland's friend Chris Porter, a singer-songwriter who died on the road in 2016. Moreland wrote the song about two weeks after Porter passed, when the pain was still heavy and constant. Line after line captures moments Porter's presence is felt––as well as his absence.
With its winsome singalong chorus and big organ chords, "East October" is a striking highlight. The song's title nods to Porter, whose song "East December" reframed time as progress from east to west. Moreland's song asks tough questions with tender persistence.
When pressed about the hard-won wisdom and peace that seem to define LP5, Moreland is characteristically both direct and humble. "I definitely am wiser than I was five years ago––I guess anybody would hope to be wiser than they were five years ago," he says with a laugh. "But I do feel more mellow. Settled. I don't feel as antsy or think I've got to prove myself anymore. I feel really comfortable and free to just do what I want to do."
Wire Mountain is his 6th solo album and sits atop a back catalog that includes Centro-matic, South San Gabriel, Marie/Lepanto, and Molina Johnson (with Jason Molina of Songs:Ohia/Magnolia Electric Co). When he's not writing and recording his own projects he's often contributing to others, like co-producing Austin Lucas' Immortal Americans, or playing drums in Strand of Oaks.

When he's not playing music he's painting. And when he's not painting he's trail-running, and then he goes back to paint "Shit I think about while trail-running."

All of this is to say that while Will may seem like he has a busy mind, he's calm Texas warmth, present in each moment.

Wire Mountain is Johnson's first album with the carefully-curated Austin TX label Keeled Scales (who've released albums by Buck Meek of Big Thief, Sun June, Twain, and Jo Schornikow), but it's his second record with Britton Beisenherz at his Austin studio Ramble Creek Recording, and his third time using Texan Matthew Genitempo's striking photography on the cover. Austin legends Jon Dee Graham and Thor Harris played on the album, as well as minimalist folk-duo Little Mazarn.
Will Johnson is a musician and songwriter who has played in the bands Centro-matic, South San Gabriel, Marie/Lepanto, Overseas, New Multitudes, and Monsters of Folk. He also releases records under his own name, and makes paintings centering on the subject of baseball and its history. His work has appeared in American Short Fiction. He was born in Kennett, Missouri, and currently lives in Austin, Texas. If or When I Call is his first novel.
100% Money-Back Ticket Guarantee
Tickets for Weekend Houston's Planning guide is provided by Ticket Liquidator a resale marketplace, not a box office or venue. Prices may be above or below face value. Your seats are together unless otherwise noted.
If problems with our affiliate call us (832) 949-9691
Houston's Online Weekend Entertainment Guide
[Disclaimer]
Houston's Weekend Planning Guide participates in various affiliate marketing programs, which means, we receive paid commissions on purchases made through our links to retailer sites.
Our editorial content is not influenced by any commissions we receive.
Looking for that Friday weekend event and can't find it
try our custom "Google Search"