Jay Leno
@Jones Hall
for the Performing Arts

Comedian Jay Leno returns to the Bayou City this weekend, December 6, 2019 with a stand-up routine and more, an "Evening with Jay Leno" Leno back in the day dominated late night television after succeeding the late Johnny Carson on NBC's "Tonight Show".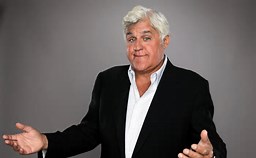 Leno moves into Jones Hall amist controversy. It involes a joke the former late night comedian told during his guest judge appearance on NBC's show "America's Got Talent". The joke was about Koreans eating dogs. The way the story goes, Leno walked past a painting of one of the show's judges and executive producer Simon Cowell surrounded by his dogs. Leno joked that Cowell looked at the dogs like they were "on the menu at a Korean restaurant."

Their was fall out with actress Gabriel Union telling gossip magazines and bloggers that behind the scenes at AGT is a difficult place to work. Union got offended by the comics remarks. NBC pulled the segment (August 6, 2019). Leno has not said anything about the situation. (Note: As a country, South Korea has taken steps to end dog meat consumption. South Korean President Moon Jae-in has been a leader on the issue, even adopting a dog rescued from a dog meat factory in 2017.)
Did you know Leno has a column in Popular Mechanics magazine? Leno owns approximately 200 vehicles, including about 100 cars. He also has a website called "Jay Leno's Garage", which contains video clips and photos of his automobiles in detail.

He has a regular column in Popular Mechanics which showcases his car collection and gives advice about various automotive topics, including restoration and unique models, such as his jet-powered motorcycle and solar-powered hybrid. Leno also writes occasional "Motormouth" articles for The Sunday Times, reviewing high-end sports cars and giving his humorous take on automotive matters.
Jay Leno this weekend at Jones Hall for the Performing Arts in downtown Houston, TX
Looking for that Saturday weekend event and can't find it
try our custom "Google Search"