Houston Grand Opera
Aida
Brown Theater
@Wortham Center
Friday 1/31/2020 7:30 PM
Sunday 2/2/2020 2:00 PM
Saturday 2/8/2020 7:30 PM
Friday 2/14/2020 7:30 PM
Sunday 2/16/2020 2:00 PM
Verdi's timeless Aida returns to the Wortham this weekend and throughout February in an awe-inspiring new production directed by Phelim McDermott. This stunning new design is enhanced by the incorporation of visionary artists Basil Twist's silk c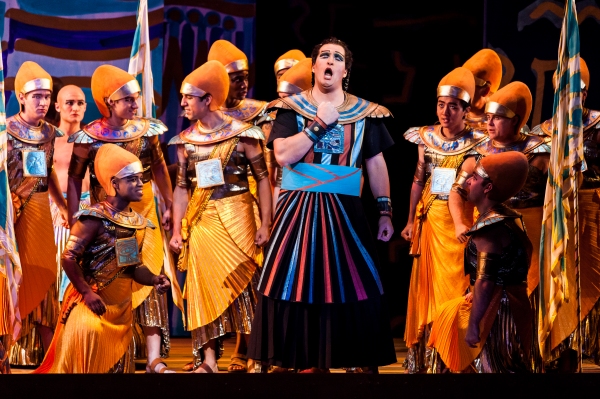 horeography. Set in ancient Egypt during the pinnacle of war, the captive princess Aida falls in love with a conquering general and must choose between true love and loyalty to her country. Verdi's powerful music heightens the unforgettable story of betrayal and sacrifice.
Celebrated American soprano and Houston Grand Opera Studio alumna Tamara Wilson sings the title role of Aida. Russell Thomas makes his HGO debut as Radames. HGO Artistic and Music Director Patrick Summers conducts.
ACT I
In the royal palace of the pharaoh, a young captain of the guard, Radames, learns from the High Priest, Ramfis, that Ethiopia is threatening the Nile valley. Radames secretly hopes to be chosen as commander of the army, envisioning a glorious victory that would enable him to free his beloved Aida, the Ethiopian slave whom he cannot publicly admit his love for. Unfortunately, Amneris, Princess of Egypt, is also in love with Radames; when she sees him with Aida, she senses their forbidden love. A royal messenger reports that the Ethiopians, led by King Amonasro, are indeed marching on Thebes. Radames is appointed commander of the Egyptian army. Hearing this news, Aida is torn between her duty to her country and her love for Radames, since, unbeknown to the Egyptians, she is King Amonasro's daughter.
Radames is taken to the Temple of Vulcan, where the priests ask the god Ptah to bless the sacred sword that Radames will take into battle to defend Egypt's soil.
ACT II
The Egyptians have won the war. Amneris and her attendants prepare for Radames' triumphal return. When Aida approaches, Amneris dismisses her attendants and tests her, telling her that Radames was killed in the battle. Aida's reaction reveals her love for Radames, and her joy when Amneris admits that Radames is still alive only confirms her suspicions. Threatening her rival, Amneris departs for the festivities.
Radames and the Egyptian army parade in triumph through the city, bringing with them the conquered Ethiopians. Among them is Aida's father, King Amonasro, who quickly warns Aida not to betray his rank. He pleads for his fellow captives' lives, but Ramfis and the priests demand their death. Radames, however, requests their freedom as his reward. The king releases all but Amonasro and Aida; he then presents Radames with Amneris's hand in marriage, leaving Aida in despair.
ACT III
On a moonlit bank of the Nile, Amneris enters the Temple of Isis for a wedding vigil. Aida waits in secret for Radames, but her father appears first, explaining that the Ethiopians have re-armed and will continue to fight. He extracts a promise from Aida to ask Radames where the Egyptian army plans to enter Ethiopia. Radames arrives; Aida slowly convinces him to prove his love by running away with her, and then tricks him into revealing the route of the Egyptian army. At that moment, Amonasro steps out of hiding, identifying himself as Aida's father and the king of Ethiopia. Amneris comes out of the temple and denounces Radames as a traitor. Amonasro attacks Amneris, but Radames intervenes, allowing Aida and her father to escape, while he surrenders himself to Ramfis
ACT IV
Amneris is torn between her love for Radames and the rage she feels because of his betrayal. She sends for him and offers to save him if he will renounce Aida. He refuses, and in a fury, she sends him to trial, where he is quickly convicted. Overcome with remorse, Amneris curses the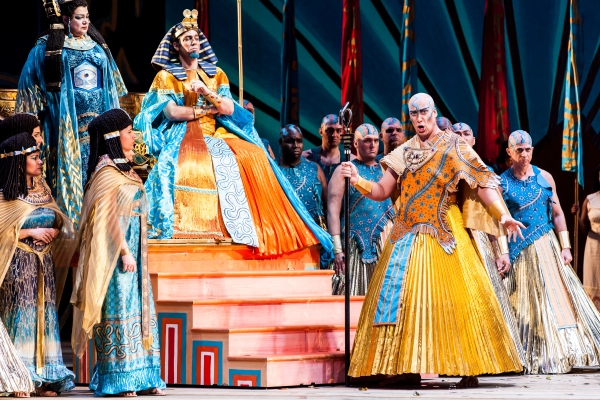 priests who condemn him to death.
Buried alive in a crypt beneath the temple, Radames thinks of Aida, hoping she is safe and well. She, however, has secretly come back to Egypt and is hidden in the tomb to await the outcome of his trial. Weak and faint with hunger, she emerges from the shadows to join him: Radames tries desperately to save her, but in vain. The lovers prepare to be united in eternity as Amneris, outside the tomb, alone and desperate, prays for Radames' soul and for peace.
Aida was first presented at HGO during the Company's third season (1957–58) and has been presented subsequently during seasons 1966–67, 1970–71, 1977–78, 1987–88, 1992–93, 1999– 2000, 2006–07, and 2013–14. HGO chose Aida to inaugurate both the opening of Jones Hall in 1966 and of the Wortham Theater Center in 1987.

Houston Grand Opera Presents
Aida
Brown Theater
Wortham Center
Brown Theatre 501 Texas Ave.
Houston, TX
Directions
Friday 1/31/2020 7:30 PM
Sunday 2/2/2020 2:00 PM
Saturday 2/8/2020 7:30 PM
Friday 2/14/2020 7:30 PM
Sunday 2/16/2020 2:00 PM
Ticket Information


Looking for that Saturday weekend event and can't find it
try our custom "Google Search"