Friday October 19th, 2018
Kevin Hart
@Toyota Center
Friday 10/19/2018 7:00 PM
Saturday 10/20/2018 7:00 PM
Kevin Hart and Tiffany Haddish's film "Night School" opened several weekends ago as the top box office grossing film for the weekend.
Hart makes his way to Houston with his stand-up at Toyota Center.
The Philadelphia, Pennsylvania native began his career by winning several amateur comedy competitions at clubs throughout New England.
Hart's first gig was at The Laff House in Philadelphia under the name of Lil Kev, which did not go well. His career suffered a slow start, as he was booed off stage several times, once even having a piece of chicken thrown at him. After those initial unsuccessful shows, Hart began entering comedy competitions throughout Massachusetts, and his fortunes soon turned for the better.
. . .more @October Weekends click here

Kevin Hart
Toyota Center
1510 Polk St. Houston, TX
Directions
Friday 10/19/2018 7:00 PM
Saturday 10/20/2018 7:00 PM
view tickets
Since you are here...
Houston's Weekend Planning Guide is updated on a continuous bias for all in the Greater Houston Area. We haven't put up a paywall or asked anyone to log-in to see our content. We want to keep it that way. We accept advertising, but the revenue from that area is not enough to support us. If everyone who reads our weekend entertainment blog, who likes it and helps to support it, our future would be much more secure. For as little as $1 or more, you can support Houston's Weekend Planning Guide – and it only takes a minute. Thank you.
Houston's Weekend Planning Guide
Fall Events Guide the Download is Free
Friday 10/19/2018 8:00 PM
Most up and coming bands have dreams of fame and fortune--scoring No. 1 hits and platinum records and becoming a household name. And, there's nothing wrong with that. But, MELODIME, a rock band that blends haunting bittersweet melodies with emotionally rich vocals atop a bed of Southern-flavored alt rock, is not like most bands. Instead, MELODIME has something bigger in mind. Rhodes explains, "There are so many bands trying to do the same thing. But we want to do something with our lives beyond the music to show people that you don't have to be famous to make an impact in this world."
The project that's helping MELODIME accomplish that goal is their new album, "Where the Sinners & the Saints Collide." With the album fully funded by their loyal and ever-growing fan base during their "Make an album, change a life" campaign, the band is donating 100% of the profits from album sales to a non-profit foundation they started called Now I Play Along Too, which provides musical instruments and education for orphans, victims of disasters, and underprivileged kids locally and around the world.
Inspired by the gift of an anonymous person, they are continuing that story and putting instruments into the hands of people who would've never been able to afford them. The band is living the idea of looking outside yourself described best in, "Where the Sinners & the Saints Collide," their thematic record about coming together, regardless of our differences, to do some good. "The album carries strong themes of redemption and has songs about picking yourself up from your boot straps, using those past mistakes and failures to make yourself a better person to help people who may be 'lost and broken' so to speak." says Rhodes, who adds that the theme picks up where the 2011 album "3 Reasons For Fighting" left off.
MELODIME is what's missing in music today – a band that tells stories from their deepest recesses of their hearts and souls; a band that seamlessly blends the musical past with the sounds of the future, and a band that isn't just making an album for the greater good of their band. "Make an album, change a life." It's not just a campaign slogan; it's their life goal.

Melodime
Warehouse Live
The Greenroom
813 St Emanuel St. Houston, TX
Directions
Friday 10/19/2018 8:00 PM
view tickets
Texas Renaissance Festival
@Todd Mission
Now thru November 25, 2018

It's that time of year, The Texas Renaissance Festival is doing its annual Fall thing. The festival will be doing themed weekends throughout its run.
"We really strive to
bring new offerings
to the festival,"
General Manager, Terre Albert
The Texas Renaissance Festival (TRF) started in 1974 at an old strip-mining site. The festival owners say it's "the nation's largest Renaissance theme park." The festival sits on 55 acres of land in Todd Mission, Texas and has over 200 acres of camping facilities. The festival is regularly attended by thousands annually.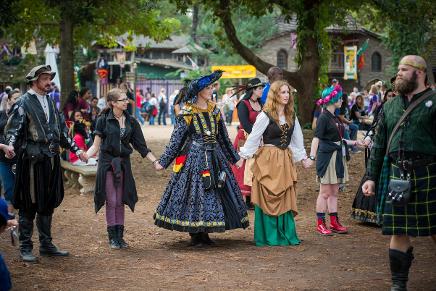 Texas Renaissance Festival
Todd Mission
Festival Grounds
Todd Mission, Texas
Directions
Now thru November 25, 2018
9:00 AM -6:00 PM
Ticket Information

The festival reported last year the festival had over half a million attendees, General Manager Terre Albert is excited this year's crowds will be even larger.
"We really strive to bring new offerings to the festival," Albert said. "We want to make sure our returning patrons have a reason to keep coming back and also show our new guests why they should keep coming to the festival." told the Community Impact.com.

TRF features nearly 500 costumed actors who perform on 25 stages. Its 350 on-site shops include: international food purveyors; unique artisans; merchants and craft vendors; human-powered rides; an abundance of performers walking among the guests; and the Queen's Royal Finale (fireworks if weather permits) at dusk.
The Joust is performed by the Hanlon-Lees Action Theatre and is said to be an accurate reenactment of a medieval joust, featuring authentic weapons, costumed horses, and armored knights. Other performances at the festival include acts designed for mature audiences only; as well as for youngsters. Staple performances include The Birds of Prey show, a highly praised free-flying bird show including hawks, owls, vultures, and eagles, the Fire Whip Show, the Clan Tynker Family Circus, and the School of Sword.
Houston's Online Weekend Entertainment Guide
Houston's Online Weekend Entertainment Guide
Looking for that Friday weekend event and can't find it, try our custom "Google Search"