Clarence Greenwood aka Citizen Cope makes his way to Houston at the HOB in GreenStreet this weekend.
Citzen Cope has built an entire career on trusting his gut and following his muse says his bio, and if his new album, 'Heroin & Helicopters,' is any indication, his instincts are sharper now than ever before. As technically innovative as it is emotionally resonant, the record arrives at a uniquely challenging moment in modern American culture, when profound political polarization and social divisions seem to grow deeper by the day. Rather than dwell on our differences, though, Cope tunes in to what unites us here, drawing on everything from Chuck Brown and The Beatles to Randy Newman and Bill Withers, aiming his unique brand of urban-folk inwards to reflect on the personal journeys we all undertake to embrace ourselves despite our flaws.

"I think we're all on a mission to find some inner peace," he reflects. "We're all going towards this collective consciousness, and even though it's dark right now, I believe we're going to reach that place together. Peace and harmony and understanding, that's how you combat the darkness, and that's what this record is all about."
While 'Heroin & Helicopters' feels particularly timely, the record's themes have been fixtures of Cope's music since the release of his self-titled debut in 2002. That album was the culmination of years of pursuing his passion. Cope got his musical start in DC before moving to Brooklyn, where he wrote songs while supporting himself on the streets, buying and selling concert and sporting tickets with a cast of characters outside arenas and stadiums. His music spread from fan-to-fan via word of mouth, and over the course of time his songs have become the soundtrack of his fans lives.
The success of Cope's music has always been a slow burn, rather than a flash in the pan. His single "Let The Drummer Kick" eventually went Platinum without any support from commercial radio. The Washington Post has hailed him as "DC's finest export since Marvin Gaye," while Rolling Stone raved that his "uncommon chords and harmonies combine delicate dissonance with unexpected flashes of beauty." In 2004, Cope followed up his self-titled debut with 'The Clarence Greenwood Recordings,' an album Vibe praised as "flawless throughout," gushing that Cope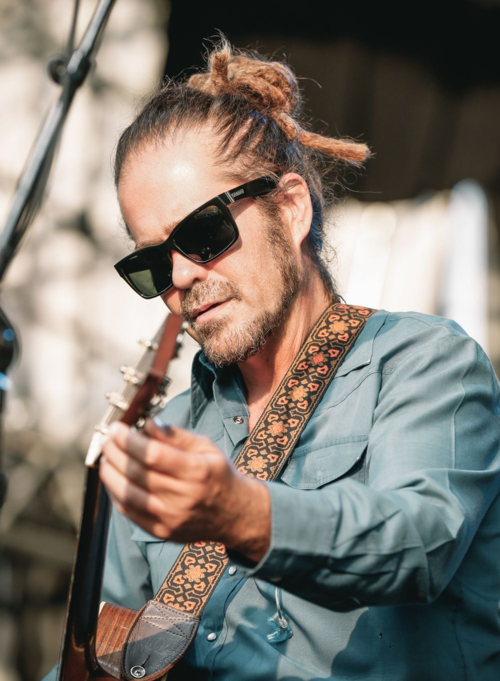 "makes music that feeds your soul…this is one of those CDs you hear at a friend's house and rush out to buy." The collection was largely ignored by mainstream media and never charted, yet the grassroots swell of support kept sales rolling year after year, to the tune of 700,000 copies, and opened the doors to film and television syncs with tracks appearing in Entourage, Sons of Anarchy, Alpha Dog, and more. Songs from the record would go on to be covered by everyone from Carlos Santana and Sheryl Crow to Richie Havens and Rhymefest, and in the years that followed, Cope has headlined all 50 states and shared stages with superstars like Eric Clapton. He cracked the Billboard 200 for the first time with 2006's 'Every Waking Moment,' and then launched his own label to release 2010's 'The Rainwater LP' and 2012's 'One Lovely Day,' his highest charting album to date.

As Cope's career grew, his style of urban-folk never settled into any particular genre in an industry fixated on arbitrary distinctions like radio formats. "I can understand why it didn't go into the cookie-cutter. The music and my life were influenced by growing up in very distinct but different American cultures." Born in Memphis, spending summer months with his great aunt and uncle in a small west Texas town, while being primarily raised in Washington, DC, Cope grew up equally influenced by the production techniques of George Martin, Dr. Dre and Willie Mitchell while listening to everything from Willie Nelson, to John Lennon, Bob Marley, Outkast and A Tribe Called Quest. Artistic boundaries meant nothing.

Weekend Saturdays Listings

Weekend Sunday's Listings

Houston's Weekend Planning Guide utilizes Ticket Liquidators.com. TL is not a box office. Ticket prices can be more or less than face value. Only the most qualified, trustworthy sellers are part of their network, after TL vets them for superior service. TL guarantee that your tickets will be legitimate, arrive in time for the event, be the exact tickets you ordered or comparable alternatives, and be completely refunded if the event is cancelled. If your experience falls short of these expectations, you're covered by their100% money-back guarantee.
Looking for that Saturday weekend event and can't find it
try our custom "Google Search"