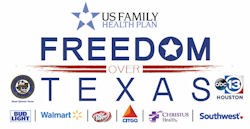 The eyes of Texas will be on Houston as fireworks ignite the sky, and country tunes set the stage for Houston's signature patriotic celebration, US Family Health Plan Freedom Over Texas. This year's event features former Hootie & the Blowfish lead-singer-turned-solo-country-artist Darius Rucker. The evening will finish with a spectacular display of fireworks presented by CITGO. US Family Health Plan Freedom Over Texas will take place on Monday, July 4th from 4 p.m. – 10 p.m. at Eleanor Tinsley and Sam Houston Parks on Allen Parkway (along Buffalo Bayou) and will be syndicated on KTRK ABC-13 and live streamed at abc13.com.
WHEN: MONDAY, JULY 4, 2016 from 4-10 p.m.
WHERE: Eleanor Tinsley and Sam Houston Parks
ADMISSION: $8 per person on these days online July 1st-3rd (click)
$10 per person day of show, online and at event
FREE children 5 and under
Darius Rucker, formerly front man of Hootie and the Blowfish, will headline the main stage. Rucker is a GRAMMY® Award winner and a 2009 CMA New Artist of the Year Award winner. Joining him will be Houston's own up and coming group, The Suffers, showcasing their signature fusion of rock and 'Gulf Coast Soul'. The evening will culminate with a spectacular fireworks display, choreographed to music, by CITGO.
Rucker's tribute to his southern roots and lifestyle, in his fourth album "Southern Style", will give audiences a taste of his solo success while enjoying favorites from his past. Rucker's three previous albums – "Learn To Live;" "Charleston, SC 1966;" and "True Believers" - all topped the Billboard Country Album chart, spinning off six number one singles to add to his three-time Grammy Award-winning, Billboard Hot 100 Top 40, platinum album status.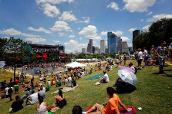 Joining Rucker on the US Family Health Plan Main Stage will be chart-topping country music group and Texas natives the Eli Young Band, known for such hits as "Crazy Girl" and "Even If It Breaks Your Heart". Houston favorite The Suffers will also share the stage, showcasing their signature fusion of rock 'n roll and "Gulf Coast Soul". Florida native and passionate contemporary country artist Brooke Eden, known for her singles "Daddy's Money," and "Sunday Morning", will kick-off the festivities!
The Bud Light Bayou Beer Garden is located in the Bud Light Amphitheater. Visitors are invited to lounge in the sandy beach area under colorful umbrellas or visit the ever-popular Bud Light Build a Bar. Enjoy an ice cold beverage while listening to live music and celebrating our nation's birthday! Other activities in this area will include free games such as; kick pool, a 5-foot tall Jenga set, giant Connect 4, life-sized horseshoes and other fun activities.
In the Dr Pepper One of a Kind Zone live music will play continuously on the Dr Pepper One of a Kind Stage with featured artists John Evans, Rusted Root, and Cowboy Mouth. Enjoy meet-and-greet opportunities with professional athletes from Houston's favorite sports teams. Join in on games such as Giant Scrabble, checkers, ball pong, bowling, and much more. Visitors will enjoy Dr. Pepper and Clamato sampling in the Flavor Zone!
Liberty Park will feature "Symbols of Freedom" as a reminder of the historic roots of July 4th. This patriotic salute will honor all five military branches and first responders that have helped shape our nation's history. Patrons will be offered a unique opportunity to see and take pictures with the military assets on display including helicopters, tanks and jeeps. Visit the US Family Health Plan tent to play games, win prizes and take a fun photo in the photo booth! There is also the opportunity to send words of encouragement to those currently serving in the US armed forces.
The Liberty Stage will feature live music by American Idol alum and Houston-native Zach Person, J. Paul and the Zydeco Nubreeds, and the Ernest Walker Band featuring the Houston All Stars – Vincent Powell, Mary Griffin, Chris Walker, Rick Marcel, J. Xavier, and more! A special music tribute to Prince will be performed with Marcel, current front man of the late performer's band, playing Prince's guitar.
The WALMART All-American Kids Zone and stage, will offer entertainment all day long with fabulous patriotic acts, exciting aerial demonstrations and scenes from the popular "Hamilton: An American Musical" produced by the talented students from Carver High School. Edu-Corp professional entertainment, Friends of the Orange Show, and Nature Eclectic Outdoors (NEO) will bring new and improved interactive educational activities to the Zone. Roaming historical and storybook characters will be available for live photo ops.
CITGO, sponsors of the incredible fireworks finale, will also be on-site with the CITGO Fueling Good Zone engaging kids in music education through experiencing sound with instruments and objects of various sizes and shapes. DJ's will be on hand to teach the art of mixing tunes and karaoke will have everyone enjoying the day! Patrons can visit the Southwest® Photo Experience to capture a free photo that features various Southwest® flight destinations. CHRISTUS Health Backstage Pass will feature exclusive behind the scenes interviews and a choice of scenes to watch throughout the event while live streaming on ABC13.com.